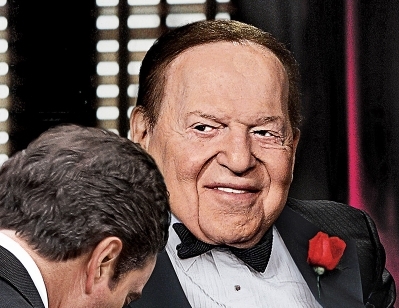 Alle har forlengst forstått hvor tragikomisk dårlig mediedekningen var under presidentvalgkampen i USA. Flertallet må også ha fått med seg hvordan De presstituertes vannmeloner vred seg som mark på kroken selve valgnatta. Det så og si ingen ser ut til å ha fått med seg, er falskspillet som har foregått i etterkant av valget. Nå skal De presstituerte plutselig gå i selvransakelses-modus. Mange av artiklene har åpnet for kommentarer, og nesten like mange er kjemisk renset for de sedvanlige lønnede nett-trollene. Dere vet, de som ødelegger enhver mulighet for konstruktiv meningsbrytning ved hjelp av et titalls ferdigproduserte talking points, og hele lista med like ferdigproduserte herskeord som antisemitt, nasjonalist, homofob, høyreekstremist, bitre hvite menn, høyreekstrem, hater, hetser, rasist etc. At disse plutselig er borte fra debattene tyder på at noen har kontroll over dem. Det kan være smart å tygge litt på hva det betyr, men nå går vi til et ferskt eksempel på falskspillet som har foregått etter valget ved å se kort på en fersk Nettavisen-artikkel om Breitbart, og så vil fortsettelsen dreie seg om å legge fram 100 % dokumentasjon på hvor integrert "journalister" og andre er i de yrkeskriminelles organisasjon. Dette blir også en real smekk over fingrene for alle de som sprer håp om at verden vil bli et mindre menneskefiendtlig sted nå som Donald Trump skal bli president.
De presstituerte er ansatte hos de yrkeskriminelle
Det alle De presstituertes representanter og flesteparten av bloggere og andre i det såkalte alternative media ikke nevner, er at det selvfølgelig ikke spilte noen som helst rolle hvilket resultat vi endte opp med etter det amerikanske presidentvalget. Som tittelen på denne artikkelen forteller, bør vi se på om de er løgnere, eller bare stokk dumme. Sannsynligvis er de begge deler, og de ekstremistiske vannmelonene som utgjør vårt tragiske pressekorps, består utvilsomt også av ofre for en ekstrem-ideologi som har lurt dem trill rundt. De er dermed såkalte velmenende vannmeloner. De tror faktisk, utrolig nok, på sitt eget forkvaklede og forfalskede verdenssyn. Vi må heller aldri glemme muligheten for at de rett og slett er blant de aller sløveste knivene i skuffen.
Fra presidentvalget i USA i 1913 fram til idag har de samme kreftene kontrollert alle de reelle presidentkanditatene, og 2016-valget var absolutt ikke noe unntak. 1913 ble et historisk år grunnet opprettelsen av The Federal Reserce-systemet, hvorpå 1. verdenskrig  fulgte i 1914, og den russiske revolusjonen og Balfourerklæringen kom i 1917. Alt sammen startet og kontrollert av nøyaktig samme krefter som fullstendig kontrollerte presidentvalget nå i 2016. Forøvrig de samme kreftene som kontrollerer De presstituerte, altså riksmediene, i alle de vestlige nasjoner. Jeg har skrevet om valget i 1913 flere ganger, og det er svært viktig fordi det var et slags dokumenterbart starttidspunkt for de gjennomkorrupte politiske prosessene som gir oss de forskjellige marionett-presidentene i USA. Her er litt av det jeg skrev i Bernard Baruch:
Brødrene Warburg
Dette dreier seg om alle jødiske gentlemens koblinger til Rothschild-dynastiet. som støttespillere for sionismen og staten Israel. JP Morgan og Goldman Sachs var underavdelinger av dette dynastiet, og i Tyskland hadde de full kontroll over alle viktige finansposisjoner fram mot og under 1. verdenskrig. Her snakker vi om de mektigste blant de mektige innenfor oligark-systemet som styrer menneskeheten, og blant det mest interessante er at disse (brødrene Warburg) var to av hovedrolleinnehaverne under konspirasjonen som førte til det hemmelige møtet på Jekyll Island og dannelsen av The Federal Reserve System i 1913, der det hele ble stramt regissert av Englands og Frankrikes Rothschilder gjennom deres plantede bank-orm Paul Warburg. Den samme Warburg som under presidentvalget i USA i 1912 støttet både Woodrow Wilson, Theodore Roosevelt og William H. Taft. Paul Warburg gjorde selvfølgelig ikke dette på eget initiativ. Han bare effektuerte ordren fra de han tjente.
Så til Nettavisens Breitbart-artikkel. Jeg siterer:
http://m.nettavisen.no/nyheter/utenriks/breitbart-redaktr—myten-om-nytrale-medier-blir-knust-foran-ynene-vare/3423282949.html
Breitbart-redaktør: – Myten om nøytrale medier blir knust foran øynene våre
– Mediedekningen er viktig for å forstå mer av Trumps valgtriumf, mener norsk redaktør.
OSLO (Nettavisen): – De som kaller oss rasister leser ikke nettavisa, sier Alex Marlow, ansvarlig redaktør for det konservative nyhetsnettstedet Breitbart, i et intervju med Washington Post.
Det stormer rundt Breitbart og styreleder Stephen Bannon, som nå blir Donald Trumps nærmeste rådgiver i Det hvite hus. Nasjonalistisk, rasistisk og antisemittisk er merkelapper kritikerne bruker, både om nettstedet og Bannon. Bannons støttespillere slår hardt tilbake.
Det er ikke nødvendig å sitere mer fra artikkelen, og nå skal jeg fortelle dere hvorfor. Vi trenger bare lette ørlite på baken for å gjøre en like ørliten jobb og undersøke hvem som finansierte valgkampen til Donald Trump, og ikke minst, ta en titt på hvem som nå gliser fra øre til øre etter at han vant valget. Videre må vi undersøke hvem han har ansatt som rådgivere og annet, og hvem som seiler opp på lista som mulige kommende ministere i hans kommende regjering.
Sheldon Adelson – styrtrik yrkeskriminell sionist og kasinoeier
Fra Wikipedia sakser jeg følgende, og de fleste halvfete uthevinger er gjort av meg:
https://en.wikipedia.org/wiki/Sheldon_Adelson#2016
Sheldon Gary Adelson (pronounced /ˈædəlsən/; born August 4, 1933) is an American casino magnate. He is the founder, chairman and chief executive officer of Las Vegas Sands Corporation, which owns the Marina Bay Sands in Singapore, and is the parent company of Venetian Macao Limited, which operates The Venetian Resort Hotel Casino and the Sands Expo and Convention Center. He also owns the Israeli daily newspaper Israel Hayom, and the Las Vegas Review-Journal. Adelson, a lifelong donor and philanthropist to a variety of causes, founded with his wife's initiative the Adelson Foundation.
As of August 2016, Adelson was listed by Forbes as having a fortune of US$32.2 billion. He is a major contributor to Republican Party candidates. He has been by far the largest donor, of any party, in both the 2012 and 2016 presidential campaigns. He was the largest donor to Donald Trump's 2016 presidential campaign.
Sheldon Gary Adelson was born into a low-income family and grew up in the Dorchester neighborhood of Boston, Massachusetts, the son of Sarah (née Tonkin) and Arthur Adelson. His father's family was of Ukrainian and Lithuanian Jewish ancestry.
According to the Washington Post, Adelson's strategy for the 2016 United States presidential election is to support a mainstream candidate capable of winning in 2016. In March 2014 Adelson was set to hold one-on-one chats with possible candidates Jeb Bush, Chris Christie, Scott Walker, and John Kasich during the spring meeting of the Republican Jewish Coalition held at Adelson's luxury hotel and casino The Venetian Las Vegas. During the December 2015 Republican debate held at that same venue, Adelson was reported to have held one-on-one meetings with several of the candidates prior to the start of the debate, including front runner Donald Trump. On May 13, he endorsed Trump for president, and pledged as much as $100 million to support his campaign.
Since 2007, the Adelson Family Foundation has made contributions totalling $140 million to Birthright Israel, which finances Jewish youth trips to Israel. He also donated $5 million to the Friends of the Israel Defense Forces in 2014.
Nettavisen-artikkelen nevner dette med at Donald Trump er en antisemitt. De samme beskyldningene florerte mot Barack Obama under hans valgkamp for å bli president i USA. Dette er det sedvanlige falskspillet. De manipulerer folk til å tro på dette, fordi de forlengst har forstått at en slik overdreven bruk av falske beskyldninger fører til at velgerne fatter sympati for kandidaten dette går utover. Som vi så av Wikipedia-artikkelen om Adelson, ble Donald Trump støttet av alt annet enn en Israel-hater/-motstander. Sheldon Adelson er en NEO-konservativ sionist, og han brukte 100 millioner dollar av egne penger på å støtte Donald Trump. Som den blodtørstige og menneskehatende sionisten Adelson er, faller det naturlig at han også var en svært viktig brikke i den største sionistiske tenketanken i USA, AIPAC. Fra New York Magazine, og det blir ganske omfattende sitert fra deres artikkel:
http://nymag.com/daily/intelligencer/2015/09/sheldon-adelson-is-ready-to-buy-the-presidency.html
According to Forbes, Adelson, who owns a majority of Sands stock, is worth about $26 billion; he is said to keep close tabs on where he ranks on the magazine's listing of billionaires, which is calculated daily, mentioning to associates when he has moved up. And although his ranking has slipped a bit in recent years — once in the top ten, he is currently 18th on that list — Adelson has been known to boast that he is still "the richest Jew in the world."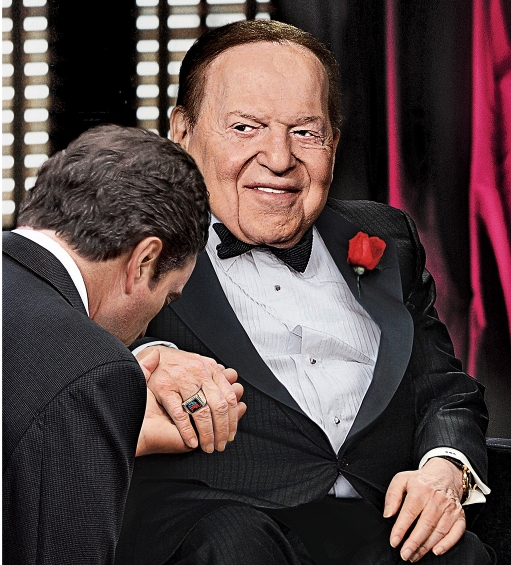 As such, he is unaccustomed to being ignored. Among the 17 candidates currently vying for the Republican presidential nomination, most are also competing in the "Adelson primary": the hotly contested race for the donor's heart, which runs through Israel. Adelson's support for the Jewish state is so intense that he opposes American efforts to broker a two-state solution to the Israeli-Palestinian conflict, arguing that the Palestinians are "an invented people" whose "purpose … is to destroy Israel"; rather than negotiate with Iran, Adelson has called for a preemptive nuclear strike against the Islamic Republic.
…
Nå må jeg bare skyte noen spørsmål før jeg siterer mer fra artikkelen. Er det noen som fortsatt tror at Donald Trump vil føre til en forbedret verdenssituasjon? Er det noen som tror at norske journalister, eller "journalister" selv trodde på det de skrev da de øste ut av seg edder og galle mot Trump fordi han, etter deres mening, var antisemitt (for et idiotisk uttrykk!), jødehater og motstander av Israel? Alt er jo for pokker bare et spill. Det står sionist-"jødiske" krefter bak enhver seriøs presidentkandidat, og det har alltid vært slik. Er det rart at de ser ned på oss når vi er så til de grader lettlurte?
…
Even Jewish Republicans find this development astonishing. "When I was a kid, I told people I was Republican, but I never told them I was Jewish," says the 53-year-old pollster Frank Luntz, "because I was afraid there was anti-Semitism in the party." But the GOP's hostility to Jews decreased in inverse proportion to the party's affection for Israel — an embrace of the Jewish state that began in the 1980s under Ronald Reagan; continued with the politicization of Evangelicals in the '80s and '90s; and grew even tighter, after 9/11, during George W. Bush's presidency. So tight that today, support for Israel has become a core issue for Republicans. Bill Kristol, the editor of The Weekly Standard and a regular speaker at Republican dinners across the country (as well as Milton Himmelfarb's nephew), marvels at the degree to which Israel comes up in speeches and discussions at those events. "People stand up and say that they're pro-life, pro-gun, anti-tax, and pro-Israel," Kristol says. "It's shorthand." Luntz reports, "When I tell Republicans I'm Jewish today, they applaud."
The turning point, they all say, was 2008 and the election of Obama. Whether it was his 2009 demand that Netanyahu institute a settlement freeze or the fact that he didn't make a state visit to the Jewish state until his second term, Jewish Republicans are convinced that Obama doesn't just want to put "daylight" between Israel and the U.S. (as he reportedly told a group of American Jewish leaders) but that he seeks to create an unbridgeable chasm. "If you're a conservative," says Noah Pollak, the executive director of the Emergency Committee for Israel and a leading Jewish Republican, "all the hostility and drama Obama has created in U.S.-Israel relations has clarified the stakes to such an extent that being pro-Israel is something akin to a litmus test, and rightly so." Kristol adds, "You feel like under Obama, it's more important."
The donors feel the same. While there remain many rich, pro-Israel Jews who support Democrats — the Israeli-American billionaire Haim Saban, for instance, is firmly in Hillary Clinton's corner — an increasing number of megawealthy American Jews appear to be defecting to the GOP. In 2014, the RJC's annual meeting in Las Vegas had its largest turnout to date: 400 people who had each donated at least $1,000. Attendance at this year's meeting in April topped 700. "There's been a number of people who have come in who have been either independents or Democrats or hadn't really been active in the political process," boasts RJC executive director Matt Brooks, "because of the actions of the Obama administration and the abandonment of Israel by leading supporters in the Democratic Party right now."
…
To many Jewish Republicans, especially neoconservative intellectuals, Netanyahu is not only an ally but a friend — someone they first got to know personally in the 1980s, when he was the deputy chief of mission in Israel's Washington, D.C., embassy and later Israel's ambassador to the United Nations in New York. Now they — and their fellow non-Jewish Republicans — watch with admiration as Netanyahu simultaneously steers his country on a hawkish path and away from its socialist roots. "When a Republican sees Bibi speak before Congress," says Kristol, "he sees someone who feels like an American conservative in terms of his emphases, his preference for markets, his admiration for Churchill, his thinking of the world as a tough place where you need to be strong." After Netanyahu's most recent speech to Congress in March, in which he lobbied against the proposed nuclear deal Obama was then negotiating with Iran, Greg Walden, an Oregon congressman and the chairman of the House Republicans' campaign arm, approached a prominent Republican strategist and asked of the Israeli prime minister, "Can't we get him to change his citizenship and run for president?"
Netanyahu's congressional speech, which was arranged by House Speaker John Boehner and boycotted by some 60 Democratic members, was a watershed moment in the partisanization of Israel — a development that, along with the Zionification of the GOP, may prove to be one of the most enduring foreign-policy legacies of the Obama years. Even if the GOP never wins the Jewish vote or the most money from Jewish donors, Jewish Republicans have already seized control of their party's foreign-policy platform for the foreseeable future. Under the next Republican president, one neoconservative foreign-policy thinker predicts, the American Embassy in Israel will be moved from Tel Aviv to Jerusalem. American military aid to Israel, already substantial, will become even more substantial. "They'll get whatever they want. They'll get shit they don't want. We'll arm them to the teeth." And it won't just be Israel. On other national-security issues, ranging from domestic surveillance to Iranian nukes, the priorities of Adelson and his fellow Jewish Republicans are now the priorities of the GOP. "Now, when the GOP ultimately does succeed and takes back the White House," this neocon says, "the hawks will have their way."
For many years, beginning in the early 1990s, Adelson's preferred recipient for Israel-related giving in the United States was the American Israel Public Affairs Committee. AIPAC, the most venerable (and powerful) pro-Israel group in the U.S., has since its founding in 1951 cultivated, and enjoyed, bipartisan support.* According to one person familiar with the group's finances, Adelson was AIPAC's "largest individual donor," routinely donating "high-six-figure or low-seven-figure gifts per year." That was in addition to the $10 million he reportedly gave AIPAC to help build its gleaming Washington headquarters. But a year before the building opened in 2008, Adelson broke with the group. AIPAC had supported a letter, signed by more than 100 members of Congress and tacitly endorsed by the Israeli government, then headed by Netanyahu foe Ehud Olmert, requesting that the Bush administration boost economic aid to the Palestinian Authority. Adelson asked AIPAC to rescind its endorsement. According to a person familiar with the dispute, "AIPAC wouldn't change its policy to bend to Sheldon's wishes, and Sheldon walked away from AIPAC and took all his money with him."
Much to the delight of other American Jewish groups to AIPAC's right. In addition to backing the RJC, Adelson is reputed to be the biggest donor to the hard-line Zionist Organization of America (ZOA) and Christians United for Israel, as well as the various political efforts of Shmuley Boteach, the indefatigable Orthodox rabbi (and self-proclaimed "America's Rabbi") who once wrote a book called Kosher Sex and served as a "spiritual adviser" to Michael Jackson but who now devotes much of his considerable energy to pro-Israel advocacy. In the past two years, Adelson has also given more than $20 million to a group called the Israeli American Council (IAC), which was founded in 2007 in Los Angeles as an apolitical cultural organization for West Coast Israeli expats. Adelson, according to a person familiar with his thinking, intends to make IAC "a counterweight to AIPAC." Thanks to Adelson's donations, IAC has opened offices in Boston, Miami, New York, and Las Vegas; last November, the group held its inaugural Washington, D.C., conference, headlined by Mitt Romney, who had flown back from Alaska the previous week aboard one of Adelson's private planes.
Vi snakker altså om en mann som har brøytet seg vei ved hjelp av sin rikdom, og nå har stor påvirkning når det gjelder politikken i USA, Israel, og derfor selvfølgelig også i Europa. Når en har så mye penger, kan man, ikke overraskende vil mange si, kjøpe seg plass på første rad under viktige debatter i FN-forsamlingen.
Det er ikke noe av det jeg har skrevet eller sitert så langt som har vært vanskelig å finne. Dette er publisert, allmenn kunnskap for alle som er interesserte. Allikevel har USAs restbestand av De presstituerte "journalister" valgt å gjøre store numre av alle Donald Trumps Israel-, sionist- og jødefiendtlige sider. Altså på aldeles falskt grunnlag presentert den kommende presidenten som det stikk motsatte av hva han er. Det er forståelig at mange sliter med å forstå alle disse selvmotsigelsene, denne babylonske forvirringen. Det sitter allikevel ganske langt inne å skulle forstå hvordan folk som etter i flere år ha studert denne Gale-Mattias-problematikken har fattet et slags håp om at Israel, ondskapens imperium, skal få et skudd for baugen nå som Donald Trump tiltrer som president i USA i januar 2017. Har de da intet lært i løpet av alle år de har lett etter sammenhenger og bedrevet grundige studier av historien? Det jeg skriver nå er en virkelighetsbeskrivelse, og den må aldri glemmes. Det spiller ingen rolle hvilke presidentkandidater som vinner valget i USA. Det spilte ingen rolle i 1913, det spilte ingen rolle i valgene fram til det siste, og det spilte absolutt ingen rolle denne gang heller. De (sionist-talmudsatanistene) støtter, kontrollerer og dirigerer alle sider av Vestens politikk. For å gi det hele et skinn av ekthet, må de fra tid til annen bedrive litt tøff opposisjon også. Det betyr at det er "jødene" selv som skriver kritiske artikler om "jøder". De gir sionismen og de NEO-konservative nazist-sionistene en ørefik fra tid til annen, slik at det for folk flest skal se ut som om det finnes en slags opinion der ute, altså at det skal spille en rolle hvem folk stemmer på. De er tvunget til å kjøre på med slik "opposisjon", for tror ikke folk at politisk opposisjon finnes og fungerer, forsvinner jo hele grunnlaget for det påståtte demokratiet. Det er som når jødene selv skriver anti-jødiske slagord på veggene i sitt eget borettslag, eller tar seg en tur på en eller annen jødisk kirkegård for å velte noen gravsteiner. Det er nøyaktig samme prinsipp.
Andre jødiske eller sionistvennlige støttespillere for Donald Trump
Reuven Rivlin
https://en.wikipedia.org/wiki/Reuven_Rivlin
Reuven "Ruvi" Rivlin (Hebrew: רְאוּבֵן "רוּבִי" רִיבְלִין, [ʁeʔuˈven ʁivˈlin] ( listen); born 9 September 1939) is an Israeli politician and lawyer who has been President of Israel since 2014. He is a member of the Likud party. Rivlin was Minister of Communications from 2001 to 2003 and subsequently served as Speaker of the Knesset from 2003 to 2006 and again from 2009 to 2013. On 10 June 2014, he was elected as President of Israel.
Reuven Rivlin var fra seg av glede etter Donald Trumps seier, og hadde dette å si etter at valgresultatet var klart:
http://www.veteransnewsnow.com/2016/11/09/after-sweeping-election-first-thing-trump-invites-netanyahu-to-u-s-for-meeting/
I want to congratulate President elect Donald Trump, his family, and all the American people who have once again shown the world it is the greatest democracy. I hope together Israelis and Americans can grow our innovation and cooperation, which are the fruits of liberty, and equality. God bless you, Mr. President.
I følge samme nettsted, som illustrasjonsfotoet med teksten over antyder, ble også Adelsons perlevenn Benjamin Netanyahu euforisk.
Following the election results, Netanyahu published a statement congratulating Trump, saying: "President-elect Trump is a true friend of the State of Israel. We will work together to advance the security, stability and peace in our region. The strong connection between the United States and Israel is based on shared values, shared interests and a shared destiny.
"I'm certain that President-elect Trump and I will continue to strengthen the unique alliance between Israel and the United States, and bring it to new heights," he added.
Opposisjonslederen i Israel er om mulig enda mer ekstatisk lykkelig over Trumps valgseier.
Opposition leader Isaac Herzog (Zionist Union) congratulated Trump on Facebook: "Warm wishes to the president of the strongest and biggest global power: Donald J. Trump!"
Habayit Hayehudi Chairman Naftali Bennett, meanwhile, hoped Trump's election would bring an end to the two-state solution.
"Trump's victory is a tremendous opportunity for Israel to immediately announce its intention to renege on the idea of establishing Palestine in the heart of the country – a direct blow to our security and the justice of our cause.
"This is the president-elect's outlook as it appears in his platform, and that definitely should be our way. Salient, simple and clear. The era of the Palestinian state is over."
Har dere hørt på maken til rasistiske og forbryterske uttalelser? Legg all tvil til side. Dette er ren og skjær ondskap, og vi må enkelt og greit slutte å se på dem som mennesker. Her er nestemann på lista over Trump-jøder:
Jason Greenblatt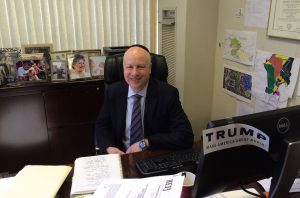 https://en.wikipedia.org/wiki/Jason_Greenblatt
Jason Dov Greenblatt (born 1966/67) is an American lawyer. He is executive vice president and chief legal officer to Donald Trump and The Trump Organization, and his advisor on Israel. Greenblatt is the son of Hungarian-Jewish immigrants, and grew up in Queens, New York City. Greenblatt was educated at the Marsha Stern Talmudical Academy, followed by Yeshiva University. Greenblatt has worked for Trump since 1997,[1] rising to executive vice president and chief legal officer to Trump and the Trump Organization, and his advisor on Israel.
Greenblatt is an Orthodox Jew, and lives in Teaneck, New Jersey, with his wife and six children, the eldest three of which are triplets. His wife, Dr Naomi Greenblatt, is a psychiatrist.
David Friedman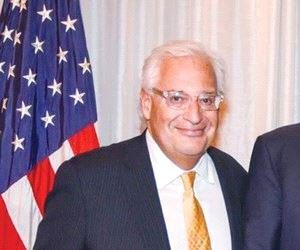 Veterans Today om Donald Trump-jødene
Trump named Friedman, 57, as an Israel adviser. Friedman, a bankruptcy expert and partner at the Kasowitz law firm in New York, is the president-elect's longtime attorney. The son of a Conservative rabbi with a family history of ties to Republican presidential candidates — his family hosted Ronald Reagan for a Shabbat lunch in 1984, the year he won re-election — Friedman lives in Woodmere, New York, and owns a house in Jerusalem's Talbiyeh neighborhood, according to Haaretz.
Friedman has expressed doubt about the future of the two-state solution, traditionally a pillar of bipartisan U.S. policy in the region. Prior to the Republican Party passing a platform that omitted references to the two-state solution, he said it might be time for the party to reject the concept.
"The two-state solution might be one answer, but I don't think it's the only answer anymore," he said in July.
Friedman has also said that annexing the West Bank would not damage Israel's status as a Jewish state.
David Friedman var også spaltist i Jerusalem Post under valgkampen, og han la ned en stor innsats for å overbevise khazar-okkupantene i Palestina om at Donald Trump var rette mann for presidentjobben i USA.
Jared Kushner
Jared Kushner er Donald Trumps jødisk-ortodokse svigersønn. Hans kone, og Donald Trumps datter, konverterte til ortodoks judaisme, og de giftet seg under en jødisk seremoni, og har tre jødiske barn sammen. Donald Trump, antisemitten, har dermed en jødisk datter, og tre jødiske barnebarn.
https://en.wikipedia.org/wiki/Jared_Kushner
Jared Corey Kushner (born January 10, 1981) is an American businessman, investor and political operative. He is principal owner of the real estate holding and development company Kushner Properties and Observer Media, publisher of the weekly New York Observer.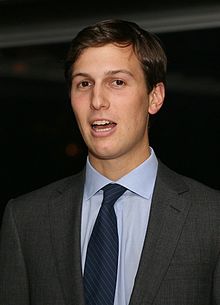 Jared Kushner er Trumps jødisk-
ortodokse svigersønn.
Kushner is the son of American real estate developer Charles Kushner and is married to Ivanka Trump, the daughter of President-elect of the United States Donald Trump. He was among the senior advisors of Trump's presidential campaign, and described as the architect of Trump's digital media campaign.
Kushner was raised in an Orthodox Jewish family in New Jersey.
Boris Epshteyn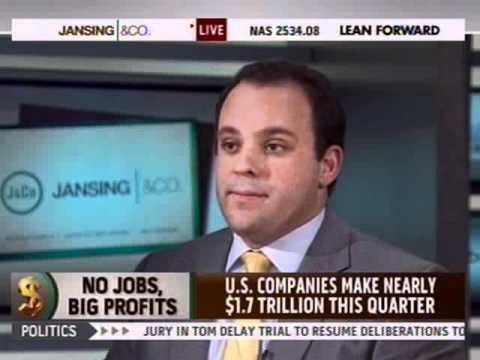 https://en.wikipedia.org/wiki/Boris_Epshteyn
Boris Epshteyn (born 1982) is a Republican political strategist, investment banker, attorney, and senior advisor to Donald Trump's 2016 campaign for President of the United States. He had previously worked on the McCain-Palin campaign. He was born and partly raised in the Soviet Union into a Russian-Jewish family.
Stephen Miller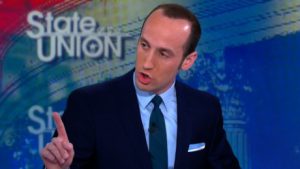 https://en.wikipedia.org/wiki/Stephen_Miller_(political_operative)
Stephen Miller is an American political operative, best known for working for Republican Senator Jeff Sessions and presidential-elect Donald Trump. As of November 2016, he is national policy director of Trump's transition team.
Miller grew up in a liberal-leaning Jewish family in Santa Monica, California.
Steven Mnuchin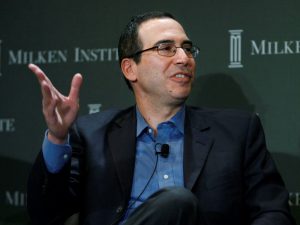 https://en.wikipedia.org/wiki/Steven_Mnuchin
Steven Terner Mnuchin (born December 21, 1962) is an American banker, film producer and political fundraiser. Mnuchin supported Mitt Romney during the 2012 U.S. presidential election. In May 2016, he was named finance chair of the Donald Trump 2016 presidential campaign.
Steven Mnuchin was born to a Jewish family, circa 1963. He is the son of Elaine Terner Cooper, of New York, and Robert E. Mnuchin of Washington, Connecticut. His father was a banker, a partner at Goldman Sachs, in charge of equity trading and a member of the management committee, and the founder of the Mnuchin Gallery at 45 East 78th Street, New York.
Mnuchin amassed a fortune estimated at over $40 million while working for Goldman Sachs, where his father had worked for three decades and had also made a fortune.
In 2002, Mnuchin left Goldman and worked briefly for his Yale roommate Edward Lampert, chief executive of Sears. He also briefly worked for Soros Fund Management in their private equity division during the "Goldman" period with Jacob Goldfield and Mark Schwartz.
Lewis Eisenberg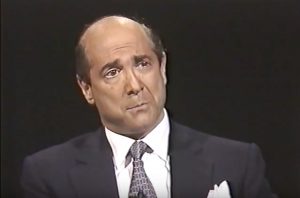 Veterans Today om Donald Trumps jøder
Eisenberg, the private equity chief for Granite Capital International Group, serves as finance chairman for the Republican National Committee. He was one of a small group of Republican Jewish Coalition board members who did not flee from Trump's candidacy, and was a major contributor to groups backing Trump's election — only nine of 55 RJC board members gave to Trump. Alongside Mnuchin, he worked to raise funds for the candidate.
Eisenberg grew up in New Jersey, the Forward reported, and he has been floated as a possible pick for commerce secretary in the Trump administration. He was the chairman of the Port Authority of New York and New Jersey at the time of the 9/11 terrorist attacks on the World Trade Center.
Eisenberg told JTA that he was "extremely enthusiastic" about a Trump presidency, calling him "a strong advocate for Israel, a strong advocate for justice and order."
Fra Wikipedia om Eisenberg:
https://en.wikipedia.org/wiki/Lewis_M._Eisenberg
Lewis Michael "Lew" Eisenberg (born 1942) is an American business financier and investor, with entrepreneurial roots known for co-founding and heading a private equity firm, Granite Capital International Group L.P. Lewis Eisenberg has a multi-decade history in American political fundraising circles and is most notable for the various national, state, and bi-state appointments he held throughout his career, specifically as the Chairman of the Port Authority of New York and New Jersey at the time of the September 11, 2001 attack of the World Trade Center, which the Port Authority operated.
Eisenberg was born to a Jewish family in Illinois.
Michael Glassner
Jewish Journal – From AIPAC to Trump: Michael Glassner's journey
How does one go from serving as AIPAC's Southwest Regional Political Director a year ago to running Donald Trump's national political operation today?
Ever since Trump announced his White House bid last June, Michael Glassner has been serving as his campaign's national political director. In part, he is credited with landing the coveted Sarah Palin endorsement ahead of the Iowa Caucus last month.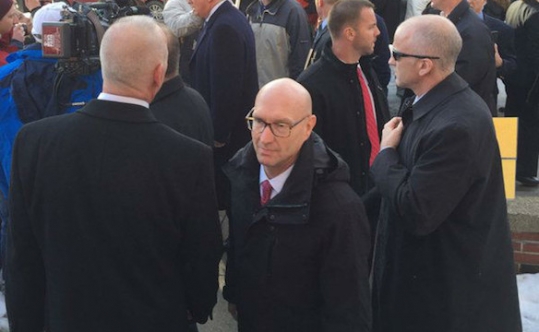 Glassner's political journey began as a 20-year-old college student from Kansas when he served as Bob Dole's traveling aide in the 1988 presidential campaign. "I became the right-hand man for the Senate Majority Leader and a presidential candidate," Glassner related in an interview with Jewish Insider. "It was a tremendous education in politics, and that was the beginning of what became a 15-year relationship as I worked for Senator Dole in a number of capacities."
Upon moving to New Jersey in the late nineties, Glassner served as a senior advisor to Lewis Eisenberg, the then-Chairman of the Port Authority of New York & New Jersey and a prominent Republican Jewish leader. He worked out of the Port Authority's World Trade Center office but left just before 9/11 to join IDT Corp in Newark. Glassner credits his former boss, IDT founder Howard Jonas, whom he referred to as "a strong Zionist and an AIPAC guy," with encouraging him to become more active in pro-Israel politics.
Eksempler på hvordan "journalistene" hos De presstituerte rett og slett juger så det renner av dem
Helt fram til valgkvelden kjørte de på, og et svært godt eksempel var The Washington Posts "journalist" Dana Milbank. Dagen før presidentvalget skrev han:
https://www.washingtonpost.com/opinions/anti-semitism-is-no-longer-an-undertone-of-trumps-campaign-its-the-melody/2016/11/07/b1ad6e22-a50a-11e6-8042-f4d111c862d1_story.html
Anti-Semitism is no longer an undertone of Trump's campaign. It's the melody.
In the final hours, the mask came off.
Donald Trump and his surrogates have been playing footsie with American neo-Nazis for months: tweeting their memes, retweeting their messages, appearing on their radio shows. After an Oct. 13 speech in which Trump warned that Hillary Clinton "meets in secret with international banks to plot the destruction of U.S. sovereignty" and that "a global power structure" is conspiring against ordinary Americans, the Anti-Defamation League urged Trump to "avoid rhetoric and tropes that historically have been used against Jews."
Well, Trump just gave his reply. On Friday, he released a closing ad for his campaign repeating offending lines from that speech, this time illustrated with images of prominent Jews: financier George Soros (accompanying the words "those who control the levers of power"), Fed Chair Janet Yellen (with the words "global special interests") and Goldman Sachs CEO Lloyd Blankfein (following the "global power structure" quote). The ad shows Hillary Clinton and says she partners "with these people who don't have your good in mind."
Anti-Semitism is no longer an undertone of Trump's campaign. It's the melody.
Dana Milbank kaller rett og slett Donald Trump for en antisemitt. En fiende av det jødiske. Denne beskyldningen kommer han med mot en mann med jøder som nærmeste medarbeidere, og som har ei jødisk datter, samt tre jødiske barnebarn. En mann som lederne av flere politiske fløyer i Israel trykker til sitt bryst. Alle forstår at Dana Milbank rett og slett juger. Det er et spill for galleriet. En svindel, og regelrett bløff. Noen har nok allerede nå forstått hva som ligger bak, men for sikkerhets skyld siterer jeg kort fra Wikipedia:
https://en.wikipedia.org/wiki/Dana_Milbank
Dana Timothy Milbank (born April 27, 1968) is a columnist for The Washington Post.
Milbank is the son of Ann C. and Mark A. Milbank and is Jewish.
Her er et eksempel fra Antirasistisk Senter, og vær vennlige å se bort fra det irriterende med at de vitner falskt om flere tiår gammel historie.
http://www.antirasistisk-senter.no/det-norke-trump-dognet/
Det mørke Trump-døgnet
Det liberale demokratiets forsvarsverk mot en rasistisk og autoritært anlagt demagog har sviktet, og det viste seg å svikte skremmende lett. Det eneste som står mellom oss og Trump nå, er Trump selv.
I går markerte vi Krystallnatten, det mørke døgnet i Tyskland og Østerrike i 1938 da mange års antisemittisk propaganda eksploderte i et inferno av vold mot jøder og jødiske institusjoner. Krystallnatten skjedde i fredstid, før Holocaust. Det var et av stadiene fram mot nazistenes folkemord.
Og ingenting av alt dette betydde noe som helst når det kom til stykket. De historiske lærdommene betydde heller ingenting, selv om Trump har flørtet med både antisemittisme og Ku Klux Klan, retweetet både nynazister og Mussolini, og vakt en begeistring og et håp i avgrunnen på ytre høyre fløy som den ikke har kjent på siden borgerkrigens dager.
Problemet er selvsagt ikke bare Trump selv. Problemet er at han har halve folket med seg. 63 prosent av alle hvite menn – mennesker som fysisk sett har ubehagelig mye til felles med meg – stemte på Trump.
Det er grotesk, og det Israel- og sionistvennlige Antirasistisk Senter, som har en solid kontingent av sionist-skribenter og "jøder", tillater den vanvittige siste setningen som oser av hat mot den hvite rase. Det er pur rasisme! – Problemet er at han har halve folket med seg. 63 prosent av alle hvite menn – mennesker som fysisk sett har ubehagelig mye til felles med meg – stemte på Trump.
De er ikke antirasister, de er de virkelige haterne. De hater alle som ikke er jøder, og har også klart å manipulere ikke-jøder til å hate seg selv fordi de er ikke-jøder.
Det eneste problemet er at vi har blitt narret til å ikke tenke
Dette er en del av det Gilad Atzmon kaller jødifisering.
Tenk nøye gjennom det følgende. De har dominant makt over menneskeheten av én eneste årsak. De bestemmer hva vi skal tro og tenke. Det begynte med oppfinnelsen av de abrahamittiske religionene, og har iløpet av århundrene skaffet seg monopol på nyheter, alle vitenskaper, forlagsbransjen, filmbransjen, domstolene, de hemmelige tjenestene, bank- og finansbransjen osv. Det er ikke mer de har. Noen vil kanskje reagere på at jeg skriver det er ikke mer de har, men jeg mener det. Vi må bare bryte ut av den babylonske magien de har kastet på oss. Ved hjelp av Internett lærer nå stadig flere at denne måten å tenke på er meningsløs. Det er derfor de yrkeskriminelle nå arbeider på høygir for å skaffe seg større kontroll over Internett enn de allerede har. Kveler de opposisjonen ved å strupe kunnskapskrana som nå står på full åpning og lar det strømme med reelle fakta og virkelighet inn i folks hjem og sinn, er menneskeheten fortapt. Klarer de ikke å gjennomføre dette, taper de. Før eller senere vil vi nå den nødvendige prosentandelen av befolkningen som skjønner at vi mennesker er født med en egenskap til å tenke selvstendig, og da er det ingen vei tilbake. Jeg har lest en del forskning om dette temaet, og uten å gå nærmere inn på denne nå, kan jeg i det minste røpe at et antatt magisk tall for at nye ideer skal vinne fram og erstatte de rådende paradigmer, ligger på rundt 10 % av befolkningen. Problemet er at det er vanskelig å vite hvor stor prosentandel av befolkningen som er psykisk i stand til å bryte ned sin kognitive dissonans, og således flykte fra saueflokken.