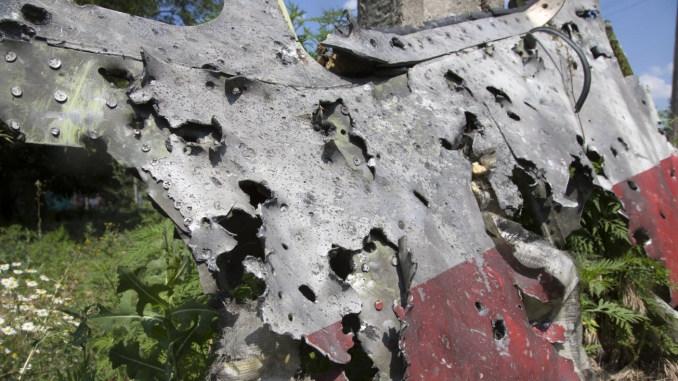 Vestens økonomiske sanksjoner mot Russland forklares og forsvares ofte som en reaksjon på nedskytingen av Malaysia Airlines MH17 den 17. Juli 2014 over Ukraina. Med dette oppnår USA å etterlate et inntrykk av at skyldspørsmålet er avgjort, samtidig som man lykkes med å skade og splitte relasjonene mellom Russland og vest-europa. Som en følge av USA/EU-sanksjonene mot Russland har Russland forbudt import av fisk- og jordbruksvarer fra EU og Norge, noe som gir store problemer, selv om vestlige medier ikke skriver særlig mye om dette foreløpig.
USA hevdet umiddelbart etter MH17-nedskytingen at de hadde klare bevis i skyldspørsmålet, men har mer enn ett år seinere fortsatt ikke lagt fram noe som helst som ligner bevis. Ingenting. Ingen betviler at USA sitter på detaljert informasjon om hva som skjedde, det var bl.a. en amerikansk satelitt som passerte over Ukraina på det angjeldende tidspunktet, og denne satelitten har utvilsomt gitt etteretningstjenesten i USA et vell av bilder og annen dokumentasjon, akkurat slik utenriksminister John Kerry selv påstod i dagene etterpå:
John Kerry, 20. Juli 2014:
"We know because we observed it by imagery that at the moment of the shoot-down, we detected a launch from that area and our trajectory shows that it went to the aircraft."
Idag, mer enn et helt år etter nedskytingen er det stillhet rundt disse bevisene John Kerry hevder å ha. Er det sannsynlig at USA, som har vært mildt sagt opptatt med å legge skylden på Russland i denne saken, ikke vil legge fram de klare bevisene som viser at det de sier er riktig? Eller kan det være slik at de bevisene de uten tvil besitter peker i en annen retning? Hva skjer med grunnlaget for sanksjonene mot Russland dersom disse bevisene legges fram?
Uavhengige medier har pekt på at Kerry og USA-NATO ikke har særlig troverdighet i MH17-saken, men bidrar selv til å sementere inntrykket av at sanksjonene mot Russland etterfulgte nedskytingen av MH17:
fra globalresearch.ca:
Malaysian Airlines MH17 Downed by Ukrainian Military Aircraft. Kiev Regime False Flag

Global Research has from the outset provided extensive coverage of the downing of MH17. The evidence and analysis not only dispels Prime Minister Abbott's accusations, it points unequivocally to a false flag attack instigated by the US-NATO supported Kiev regime, as well as a coverup by the Australian and Dutch investigators.

Lest we forget, the downing of MH17 was used as a pretext by Washington to impose economic sanctions on the Russian Federation.
Husk at MH17 ble skutt ned 17. Juli 2014.
Under finner du et skjermbilde fra en amerikansk regjerings-webside som annonserer sanksjoner mot Russland. Sanksjonene er datert 16. Juli 2014.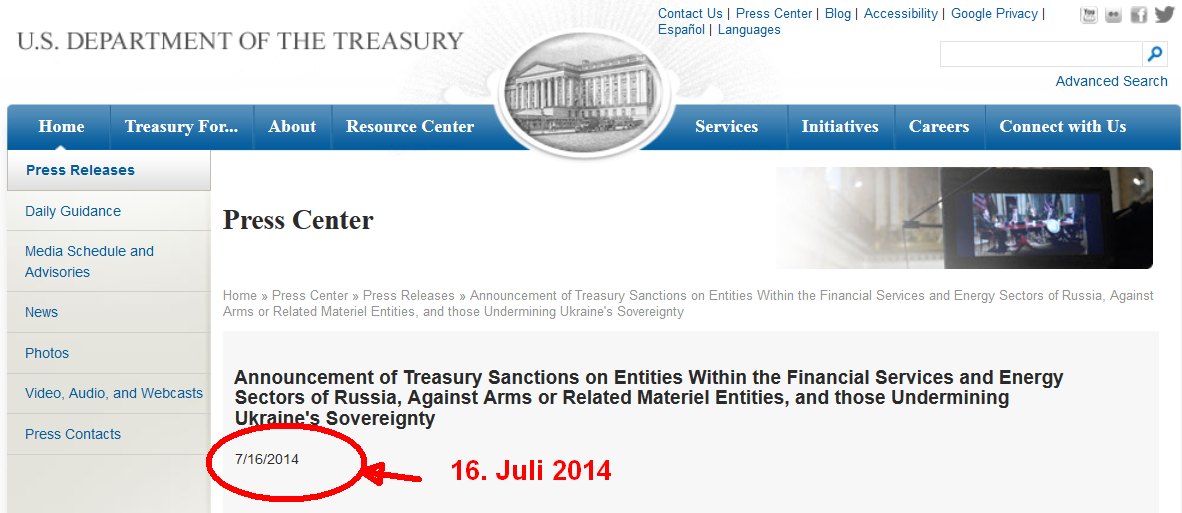 Var sanksjonene mot Russland en reaksjon mot nedskytingen av MH17?