Falske skader på kriseskuespillere
2Q11 tipset meg om denne manualen for hvordan de lager falske skader på mennesker i forbindelse med øvelser. De er avhengige av stor kunnskap innenfor dette området, og de er avhengige av skuespillere. Det siste ble det skrevet litt om i Crisis Cast lever av å leie ut skuespillere til firmaer og myndigheter, og flere eksempler på dårlig skjult juks og fanteri ble avslørt i Potetmel og skuespill under Boston Marathon.
Denne gang skal vi se litt nærmere på hvilke typer skader de kan forfalske, og som alle vil få se, finnes få om noen grenser. Pinner og andre gjenstander stikkende ut av hodet og andre kroppsdeler finnes flere eksempler på. Åpne sår og åpne brudd fikser de med eleganse, og oppskriften på tredjegrads forbrenning ser ut til å følge en svært enkel oppskrift. De lager arr og andre synlige senskader, og ser i det store og hele ut til å kunne gjøre akkurat hva de vil.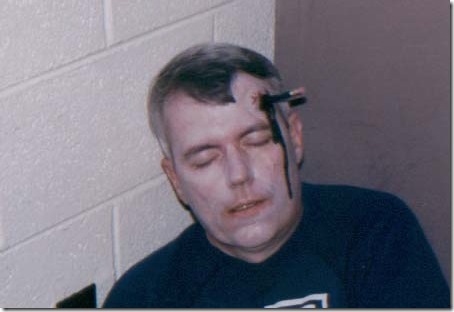 http://www.vdh.virginia.gov/OEMS/Files_Page/symposium/2012Presentations/PRE-005/PRE-005CasualtySimulation.pdf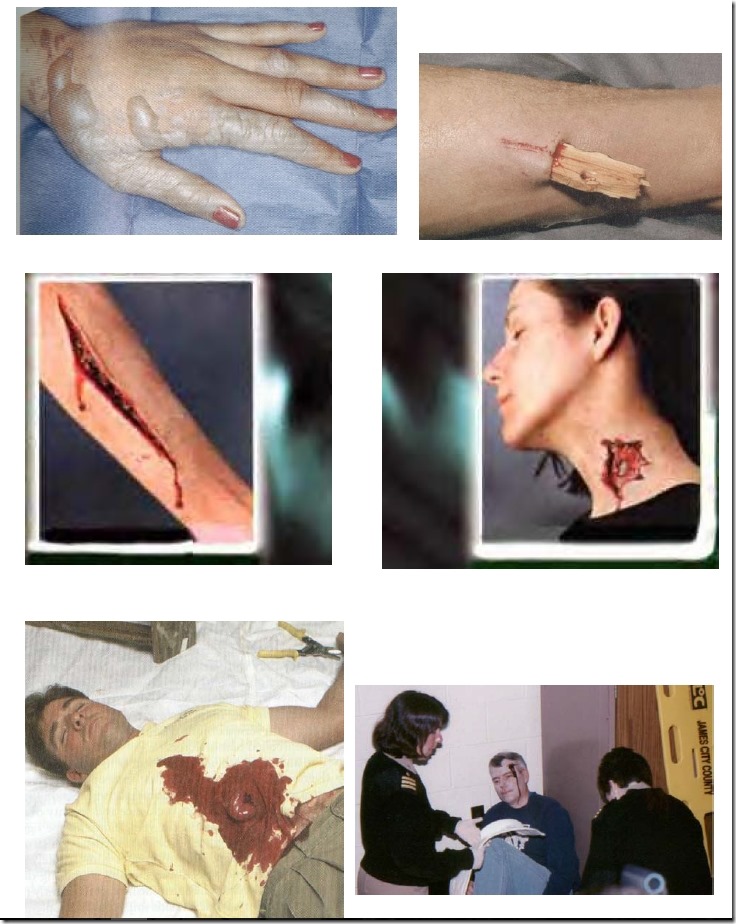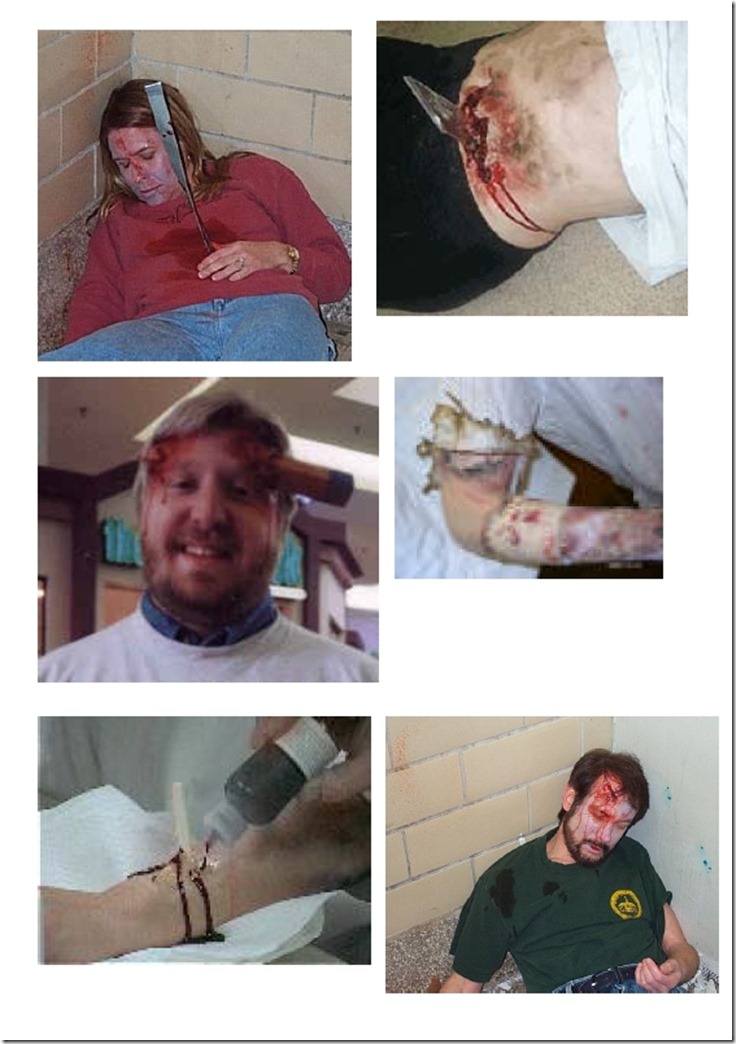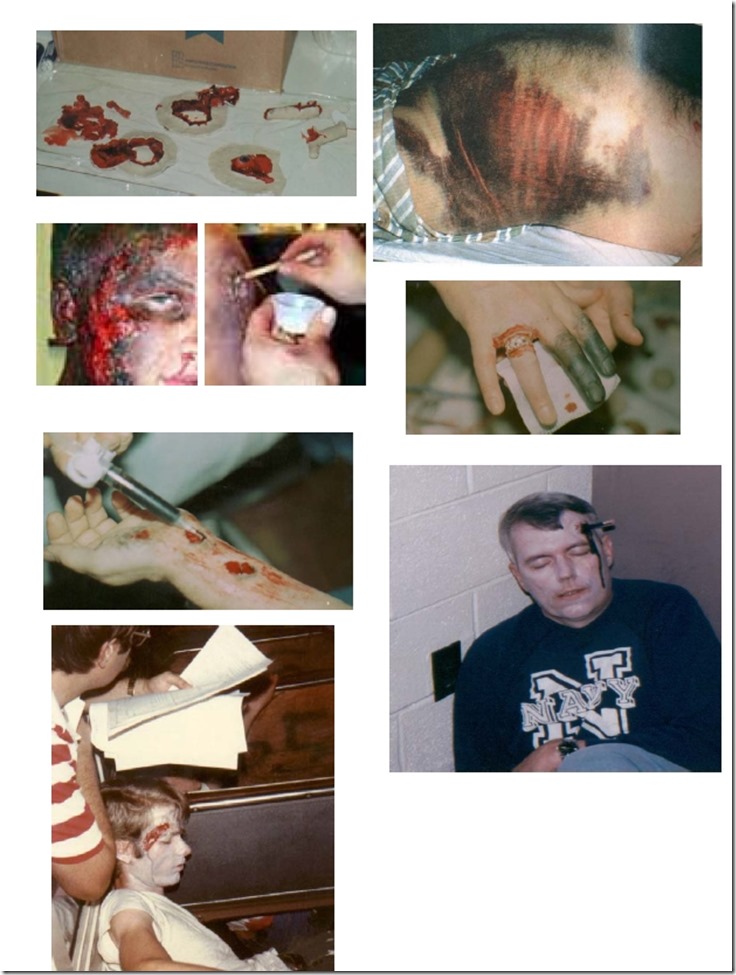 Noen utvalgte sitater fra manualen: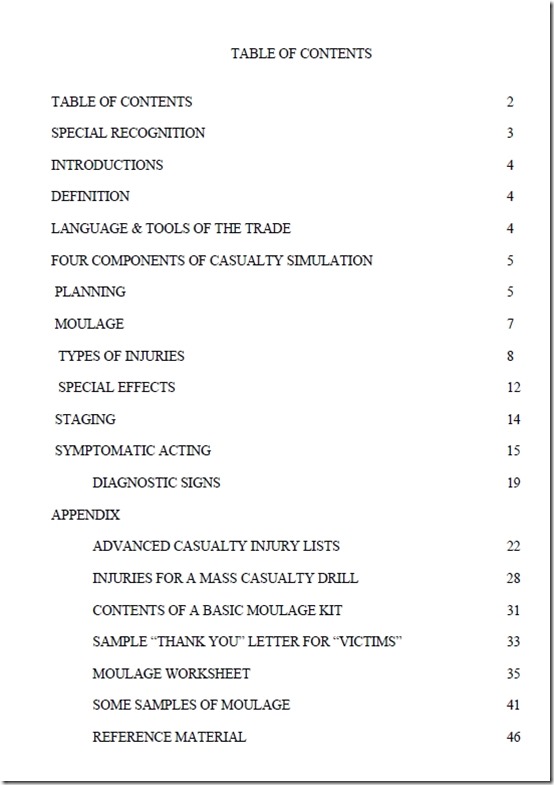 INTRODUCTION: CASUALTY SIMULATION
If you have been involved in EMS for any length of time, then you should have been involved in at least one «Disaster Drill». Depending on the amount of time spent in preparing the `victims', you may have felt that the drill itself was a real disaster. Consider arriving on the scene to find a `victim' who is supposed to have major traumatic injuries, a decreasing level of consciousness and in shock but is lying there on the ground `the picture of perfect health, laughing and wearing a tag which describes their injuries'.

What would be your reaction?
Disgust! Anger! Disappointment!

Of course, and rightly so. You were trained to treat injuries, which you can «see, feel or smell.» Why should a drill be any different? Realism in teaching
the fundamentals are necessary if the instructor wants to trigger the desired response. Only through planned realistic exercises can EMS personnel be conditioned to function in an emergency situation.

Casualty simulation is an essential part of these training exercises. That is the purpose of this manual on Casualty Simulation; to aid you in becoming adept at creating an effective illusion to aid in that realistic training experience.

DEFINITION:

According to Webster's dictionary, Moulage is defined as the science or practice of making a mold in some plastic substance. For the purposes of this course, moulage can be defined as the art of casualty simulation. Moulage is considered an art because it takes imagination and creativity to produce a simulated casualty. Moulage is accomplished by wound simulation through the use of make-up and clay (or wax) or make-up and prefabricated devices.

LANGUAGE AND TOOLS OF THE TRADE:

The items listed below, when combined, will give you the components of a basic moulage kit.
Adhesive: a sticky substance used to hold the moulage device or modeling substance in place. (spirit gum, tincture of benzoin, liquid latex)
Blood powder: a commercial product which, when mixed with liquid (water, liquid starch, glycerin, etc), simulates human blood.

Brushes: artist type can be used for application of grease paints or powder
Charcoal powder: for use in the moulage of burns
Cold Cream: a commercial product used to protect the skin under make-up and an aid in the removal of makeup.
Combs: used in creation of special effects
Cotton: for make-up application and removal; special effects
Cotton tipped applicators: for make-up application
Effects Gel: a gelatin-based product (Ben Nye) that is solid when cold but become liquid when warm; reusable. Comes in three colors: Scar, Flesh, Blood
Effects Gel Applicator: equipment that applies the effect gel
Effects Wheel: a commercial Ben Nye product which includes several colors in one container
Facial masque: used in creation of special effects, 3rd degree burns
Foreign bodies of impaled objects/open fractures: used in creation of special effects (bone fragments, sticks, pieces of wood, pieces of metal, knife handle, shell fragments, plexiglass, etc.)
Glycerin: a colorless syrupy liquid used in many lotions as a base. In moulage work, the glycerin is used alone or mixed with various substances for a variety of effects.
K-Y Jelly or Vaseline: used in creating blisters for burns. (Vaseline is also used in the formula for making moulage wax)
Palette knife: a thin blade, blunt edged flexible instrument with a metal blade and wooden handle. Used when working with a modeling substance and for blending theatrical make-up.
Modeling substance: any material (in a variety of flesh tones) that can be molded or shaped to simulate human skin and tissue when creating artificial injuries.
modeling clay
plastalene
morticians wax
derma-wax
Sponges: for use in applying and blending make-up
stippling sponges make-up sponges

…

PLANNING:
Planning is the first component in the success of a casualty simulation exercise. There are many considerations to be made in this stage and a logical pattern will help keep you from making common mistakes.

Before the Exercise

1. Select someone with moulage experience as the moulage team leader.
2. Allow the team leader to select his team members. (1 team member for every 6 victims)
3. Have planning session(s) with the moulage team leader, members and exercise coordinator to discuss the following:
a. Type of exercise
b. Date, place and time of exercise
c. Number of victims to be moulaged
d. Types of injuries
e. Prepare the scenarios/worksheets or familiarize the team with existing
ones (already prepared).
f. Identify time, area needed for moulage preparation
g. Identify equipment not available

Day of the Exercise

1. Team leader and team members arrive early
a. Final briefing by team leader (assignments)
b. Set up equipment
c. Team leader selects victims or identifies pre-selected victims

DO SELECT:

1) Casualties whose physical characteristics will
simplify moulage application. (bald, existing amputation, etc.)
2) Use Males for chest injuries.
Les for all del hele manualen, for dette var bare et kort utdrag. Her har vi pinner og andre fremmedobjekter som skal stikke ut av hoder og andre kroppsdeler, og vi ser en anbefaling om å plukke ut de best egnede skuespillerne, så som de med amputasjoner. I Boston var det pre-amputerte svindlere, og i regjeringskvartalet dukket det sannelig opp en pinne stikkende ut av et hode.
Vi bør legge spesielt merke til dette med operasjonslederens rolle. Han/hun skal dukke tidlig opp på åstedet for "terror" og andre hendelser, og planleggingen gjort på forhånd må legge nøye til rette for de ønskede visuelle og operasjonsmessige hendelser. Det er særlig en person som skiller seg ut i forbindelse med Oslo-bomba, og han skal jeg komme tilbake til senere hvis jeg føler det riktig å presentere ham.